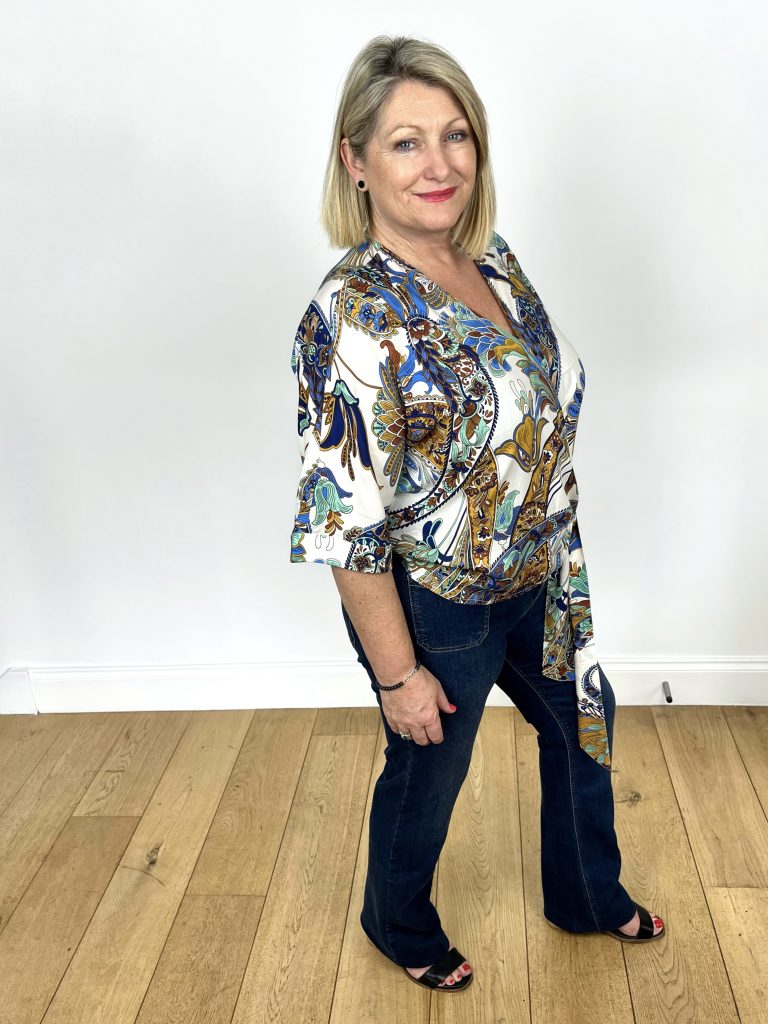 Denim is the perfect fabric and denim jeans must be the most versatile trouser in your wardrobe.
Wait though, Which Shape jeans? Which Colour? What length? What denim treatment?
Dark, Distressed, Bleached, Embroidered, Boyfriend, Bootleg, Cropped, Wide leg,7/8, Flared, Skinny………… it's a confusing discussion and that's not even mentioning the sheer no of denim brands out there. 
If jeans are not your thing I urge you to reconsider these must-haves as jeans are now acceptable as workwear, and are allowed in most venues everywhere. The world has become more casual and denim jeans can be very classy indeed.
Here are a few tips to help you always have the right pair of denim jeans whatever your shape and whatever the occasion.
The first thing to say is: 1 pair of jeans is not enough, Sorry but it's just too limiting: You need at the very minimum 
1 pair of White / soft white 
1 pair of med blue which work well, particularly in summer 
1 pair of Dark Denim: These can be dressy, smart and worn as part of numerous outfit options both formally and casually.
Before you go off shopping though let's talk shape. There's fashion and then there's what style suits your body shape: Im sure you're aware of the seven body shapes 
Hourglass
Full Hourglass
Lean Column
Triangle (Pear)
Inverted Triangle 
Round (apple)
Rectangle 
We also have to consider if your shape is in proportion OR if you are short/long-legged, short/long-bodied high/low in the rise.
These are all measurements I can help you decipher so you can find those jeans, and remember unless your shape changes considerably these jeans will give you YEARS and YEARS  of wear. 
Now Let's talk Fashion Shape:
Skinny 
Flared
Wide Leg 
Bootleg 
Boyfriend
Mum 
Cropped 
7/8 Ankle Grazers
Straight
Push up. 
I'd say fashion shapes come and go, currently, the bootleg is growing in popularity as women remember just how flattering and elongating the shape is BUT again it's what fashion cut suits your body shape. There will be more than one shape for you. We just need to ascertain which are best for you. 
Come and see me and try all the shapes. Denim can be slimming as well as enhancing. If your jeans are making you look bigger and frumpy you need to reassess. 
Let's talk Denim Design. 
There are many designers working for 100s of Brands giving us choices in Cut, Treatments, and Embellishments. We all have a Style Personality and this will help you to decide the right pair for you. Let me tell you more about how your personality channels your choices in a 1 to 1 session. 
Briefly, there are 6 main personality types and if for example, you are a City Chic lady you will love Dark Denim jeans and you will wear them with blazers / Jackets and more formal blouses. 
So there is plenty to think about, but isn't it such a lovely dilemma to have? With my knowledge and experience you can have your denim capsule collection sorted this season so that it works with all the key pieces in your closet.
Finally Sustainability! So important. 
It's a well-known fact Denim can be a dirty process and damaging to the environment, so we need to trust that our chosen brands are committed to the environment, wherever in the world they are made.
I urge you to research: Don't be seduced by slick campaigns or greenwashing. Haven't got time to do that? Trust me then as I have researched. I've chosen the Elora brand because their jeans offer is not only comprehensive, its fabrics and washing processes are sustainable. There's always new technology to improve and enhance but Elora is up to date. 
I hope this has given you some food for thought. I really look forward to seeing you in the studio. 
If you can only afford 1 item of clothing this season make it a pair of jeans. they can be worn all year round with so many of the clothes you already own. 
Carole Ann (Truly)